We offer fully accessible affordable studio photoshoots and studio hire in our village studio, located in Horden, near Peterlee, County Durham. This is a great accessible location in the North East as it is between Newcastle or Sunderland in Tyne and Wear and Hartlepool or Middlesbrough in Teesside, so 5 minutes from the A19 on the A1086 (Sunderland Road). Along with free parking, makes Oak photo a great location for your photoshoot hire session.
– Designed studio space
– Fully accessible premises for wheelchairs
– Comfortable waiting/chill out area
– Wheelchair accessible toilet
– Private dressing room adjacent to the shooting area for quick, confident changes
– Free Wi-Fi for customers
– Free tea and coffee for customers
– Free parking
– Great public transport links
How to book:
Very simply e-mail studio@oakphoto.co.uk your requirements including dates, times, numbers attending and any specific setup you want for your session (so you can make a start in a couple of minutes and get the most out of your time). One of our studio team will quickly check availability then reply with a yay or nay and, if all is clear, give you payment information to pay for your session. We require at least the first hour to be paid to confirm your session or in full for half and full day hires. For 1-3 hrs the first hour can be your security deposit then the rest can be paid on the day if you wish. 
Studio equipment
– Backdrop system for 2.72m rolls.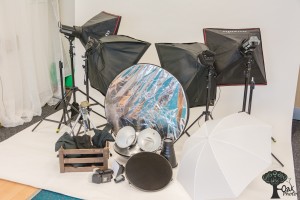 (white and black rolls in stock and large 3x4m green chromakey green fabric drop)
– Portable system for smaller drops – 2 metres wide, 2.2 metres high or 3x3mtr portable stand
– 2 x Interfit EXD200 TI strobe head with stands with RF controller (we have adapters so fit all hotshoes)
Modifiers: 60cm square softboxes, standard 22cm shades, 45cm beauty dish with grid and diffuser, snoot with grids and gels.
– 2 x 1350w constant 5500k lights with 50x70cm soft boxes
-4 way reflector with flexi grip arm
– Speedlite stand and 2 speedlites with diffusers and mini soft boxes
– Windows editting PC with PS and LR CC
We have a Nikon APS-C (crop sensor) DSLR with lenses you can hire for your session should you need it. Please ask for details.
Seating and steps (left to right in photo)
2 47cm stools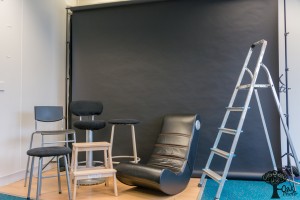 4 68cm stools (high chair type)
2  76cm stools (bar type)
1 76cm backless stool
1 beech step stool. 25cm and 50cm steps
1 rocking gamer type chair –  leather effect black with orange stitching
1 7ft ladder
2 seater sofa with black fur throw and black leather office chair (not pictured)
Wheeled 47cm gloss black filing cabinet and a desk (not pictured)
Props box
Large dark straw basket
Large and small orange crates
Acoustic Guitar and Ukelele – Other styles of guitars and amps available – just ask
Faux sheepskin rug
Fairy lights – assorted styles
Range of kids costumes – Please contact us for a list.
Bunting
Stuffed toys and cushions
Vibrant play mats
Bottles of bubbles
Bubble machine available by prior request
Prices and further information for studio hire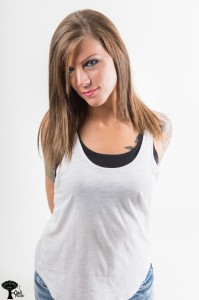 Spring Summer pricing from March-October
Flat £10 per hour (Half hours available if specified when booked).
Half days (4.5 hours) and full days (up to 12 hours) are discounted to £42.50 and £75 per hour but must be paid for in full when booking.
Paper rolls – Paper roll that has to be cut off will incur a charge of £4 per metre. You can bring your own backdrops if you wish and we can responsibly recycle any waste.
Catering is available for your studio hire with a local business (25 yards away).
You can bring devices, chargers and even your own lighting gear, but all kit and cables will be inspected for condition before you plug them in. This is for insurance purposes so please do not take offence.
Please contact us for details.
Local businesses in walking distance from Oak Photo
Our neighbours:
The Sandwich Club – Serve hot food, deli sandwiches, home made pies and cakes, tea and coffee from 8-2 Mon-Sat. Catering also available.
Maddison's Carpets – Have a range of rugs in store should you need a flooring solution for your shoot.
Horden Labour – Pub and function room
The Bell Guesthouse – Excellent well priced accommodation, just 30 yards from Oak Photo. – Click to book
Horden Community Library
Sornel Ltd. – Electricals suppliers, specialists in large audio equipment and microphones, but stock a wide range of batteries and cables.
Hair Genie – Hair stylist, hair extensions and wigs.
Trudy's Hair and nail salon.
Yohden Fisheries – Fish and Chip shop open lunch times 11.30-2pm and evenings 4-8.30.
A short walk along Sunderland Road:
Mosci's general store – 2 minutes walk – Good range of supplies, old fashioned sweets, new agency, lottery and snacks.
Dog grooming by Rebecca – 5 minutes walk
Wayside Taxis – 5 minutes walk
Extreme Hair and Beauty – 5 minutes walk
Jamaica Tan – Tanning Salon – 5 minutes walk
M. Whitfield Chemist – 5 minutes walk
Saffron – Award winning Indian Cuisine – 10 minutes walk
Red Stripe Taxis – 10 minutes walk
Other Horden businesses:
The Green Leaf Cafe – Haswell MENCAP run café on the park – 2 minutes walk
Seaview Performance Garage, Seaview industrial estate
Rossi sports and clothing, Blackhills Road – Very knowledgeable and reasonably priced family run apparel business
Roses 'r' Red Florist, Blackhills Road – Lovely arrangements and friendly service
Biceps Gym – Blackhills Road
Dale's deli, Sunderland Road –  Delicatessen 10 minutes walk away
All Things Fun, costumes and balloons – 10 minutes walk away
A Wood Man with a van service – Andy and his van are common sight in the village. Genuinely nice and helpful guy.
Pat Lavery Autos
Eddie's Tattoos
The Brothers Ink
Nearest ATM's:
Oak Photo accepts Credit and Debit cards, but should you need them there are several ATM's in the village
Mosci's General store 400yds – Extended business hours access only, charge applied to withdraw
TSB – Blackhills Road – 2 minutes by car
Horden Post Office – Fifth Street – 2 minutes by car
Sainsbury's Horden, Sunderland Road – 3 minutes by car
Contact us if you require more information
Find our studio for hire on StudiosForHire.com